Single Tooth Implant – Houston, TX
Complete Your Smile with an Implant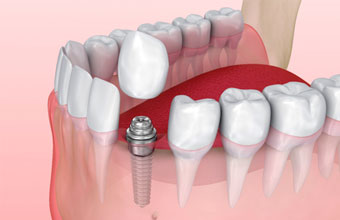 Every tooth is crucial to your oral health and functions. Not only is an incomplete smile damaging to your quality of life but also your confidence. Now, there are many options to fill the empty space. Besides a traditional fixed bridge, you can also choose a dental implant in Houston. Dr. Cher Rich will help you make the best choice for your smile.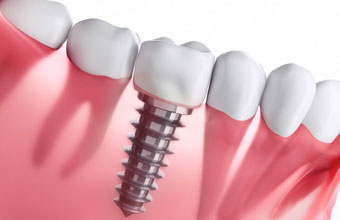 Tooth Replacement Options
Your teeth are designed to last for a lifetime. Unfortunately, 120 million Americans are missing at least one tooth. Although it may only be a single empty space in your smile, it can have devastating consequences for your oral health.
When you lose a tooth, you also lose the root. Your jawbone will deteriorate because it is no longer stimulated by the root. This causes your remaining natural teeth to lose support, so they drift toward the open space. The creates alignment concerns that increase your risk of tooth decay and gum disease because they become harder to clean. Over time, your remaining teeth may become loose and fall out.
The most traditional solution to replace a tooth is a fixed bridge. Your dentist in Houston takes an impression of your mouth to create a prosthetic one. It is held in place by reshaping your adjacent teeth to place dental crowns over them.
Although this is an effective and convenient treatment, it only replaces the crown. You can also treat the root by choosing a dental implant. It is surgically placed into your jawbone to closely mimic your natural tooth while giving you an option that can last for a lifetime.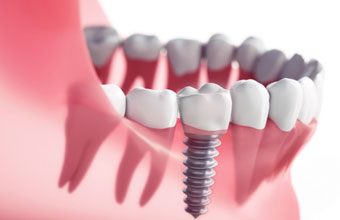 What are Single Tooth Implants?
A dental implant is the only treatment to replace the root and the crown. A biocompatible implant post is surgically placed into your jawbone to mimic the root. An abutment is then connected to the post. The fixture allows your custom-made crown to be attached to the post. Your crown is made from all-ceramic material and designed to match the appearance of your natural teeth to blend in seamlessly when you smile.
Benefits of Single Tooth Implants
Replacing both the root and the crown allows you to enjoy several advantages that are not possible using a traditional bridge, including:
High Success Rate: Over a 95% 10-year success rate and proven to last for several decades with the right aftercare, like maintaining your oral hygiene and regular dental appointments,
Looks Natural: All-ceramic material allows it to closely look like a real tooth.
Feels Natural: Restore as much as 70% of your biting force and never worry about any slipping or irritation.
Improves Oral Health: Preserves your jawbone's density to stop dental drift. This reduces your risk of tooth decay, gum disease, and additional tooth loss.
Supports Facial Structures: Reduces the risk of premature sagging and wrinkling of your skin for a youthful appearance.
Easy Maintenance: Care for it as you do your natural teeth.
Cost-Effective: Affordable long-term solution because it has the potential to last for a lifetime.
Schedule an Appointment Today!
If you are ready to fill the empty space in your smile, contact our office today to schedule an appointment.