Dental Implants — Houston, TX
The Most Comprehensive Tooth Replacement Solution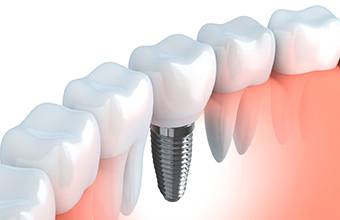 Whether you are missing a single tooth or an entire mouthful, dental implants can offer a permanent solution to the gaps in your smile. Dental implants work by attaching artificial teeth directly to the jaw. There are three components of an implant: the anchor, which will be surgically embedded into the bone, a post to which the tooth attaches, and the artificial tooth itself. Dental implants can replace single teeth, provide support for a bridge, or be used to anchor a partial or full denture. Keep reading or contact us directly to learn more about how Dr. Cher Rich can restore your smile using dental implants in Houston.
Why Choose Cher Rich D.D.S. for Dental Implants?
Partners with Local Dental Implant Specialists
Personalized Restorations to Replace Any Number of Teeth
Reasonable Fees and Flexible Financing Solutions
What Are Dental Implants?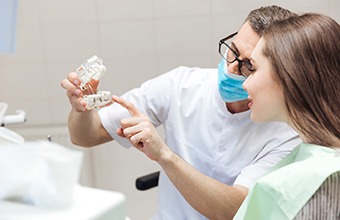 A dental implant is the only treatment to replace the root and the crown. A biocompatible implant post is surgically placed into your jawbone to mimic the root. An abutment is then connected to the post. The fixture allows your custom-made restoration to be attached to the post. Your crown, bridge, or denture is made from lifelike materials designed to match the appearance of your natural teeth and gums, ensuring it blends in seamlessly when you smile. Replacing both the root and the crown allows you to enjoy several advantages that are not possible using a traditional bridge, including a stronger biting force, substantially improved longevity, better reliability, and unmatched esthetics.
Benefits of Dental Implants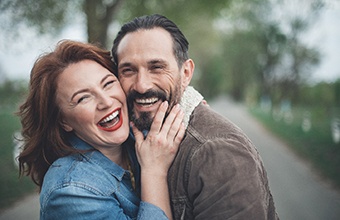 Replacing both the root and the crown allows you to enjoy several advantages that are not possible using a traditional bridge or denture, including:
High Success Rate: Over a 95% 10-year success rate and proven to last for several decades with the right aftercare, like maintaining your oral hygiene and regular dental appointments,
Looks Natural: All-ceramic material allows it to closely look like a real tooth.
Feels Natural: Restore as much as 70% of your biting force and never worry about any slipping or irritation.
Improves Oral Health: Preserves your jawbone's density to stop dental drift. This reduces your risk of tooth decay, gum disease, and additional tooth loss.
Supports Facial Structures: Reduces the risk of premature sagging and wrinkling of your skin for a youthful appearance.
Easy Maintenance: Care for it as you do your natural teeth.
Cost-Effective: Affordable long-term solution because it has the potential to last for a lifetime.
Who Dental Implants Can Help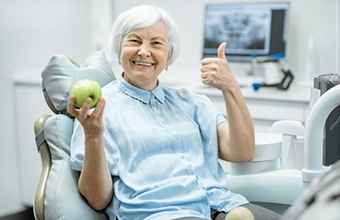 We use dental implants to replace one tooth, multiple teeth, or even a whole arch of your smile. You will need different restorations based on the number of teeth that you're missing and where you're missing them.
Who Is a Good Candidate for Dental Implants?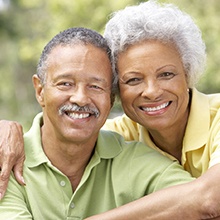 If you are considering implants, a thorough evaluation by our expert dentist in Houston will help determine if you are a good candidate for them. This evaluation will include a clinical examination and a complete dental and medical history to gather information about any conditions you have that could interfere with normal healing (such as diabetes or heart disease). Also, be sure to tell Dr. Rich about any allergies you have or any medications you are taking.
During the dental examination, Dr. Rich will check the condition of your mouth, the supporting bone in your jaw, and the way your upper and lower teeth fit together. She may gather additional information by taking X-rays and making models of your teeth. With this information, she can determine if dental implants are the best way to replace your missing teeth.
Missing One Tooth
If you're missing a single tooth, Dr. Rich will use an implant crown to restore the look and feel of your smile. This will seamlessly blend in with your natural teeth, and it will also maintain the health of your remaining ones.
Missing Multiple Teeth
If you're missing multiple consecutive teeth, Dr. Rich will recommend the use of a dental bridge. This restoration literally bridges the gap in your smile using dental implants on either side. This gives you a secure, functional, and natural-looking set of teeth.
Missing All Teeth
Are you missing all or most of your teeth? We can restore your smile with implant dentures. Using strategically placed dental implants, we can anchor your denture in place for the most secure bite. This restores your biting power, and best of all, confidence.
Understanding the Cost of Dental Implants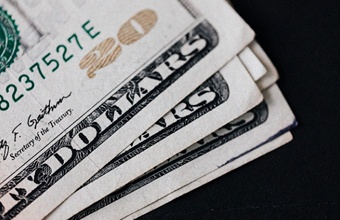 You've probably heard dental implants are expensive, but they are more affordable than many people realize. Since every smile is unique, there is not a flat rate for the procedure. Various factors affect the cost of dental implants in Houston, but don't let that stop you from replacing your lost teeth. We have the financial solutions you need to complete your smile without draining your bank account.
Preliminary Treatments & Dental Implant Surgery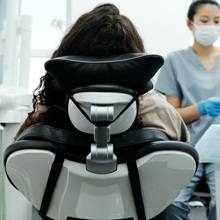 A dental implant replicates both the root and crown. As a result, your treatment is performed in multiple phases, each with separate costs. This can make it easier to budget for your new smile because you won't have to come up with a lump sum. Although every plan differs, you can expect your estimate to include:
Preliminary Treatments: It's not uncommon to require preparatory procedures, like gum disease treatment, tooth extractions, or bone grafting.
Placement Surgery: Sedation or anesthesia are used during your placement surgery to keep you comfortable.
Type of Restoration: The more teeth you are replacing, the larger the restoration you will need.
After creating a personalized treatment plan, your implant dentist in Houston will review your estimate, so you'll know exactly what you will have to pay.
The Parts of Your Dental Implant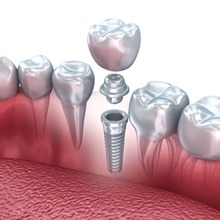 You'll need to pay for each component to rebuild your smile. While there are discounted materials, you'll get what you pay for. It's best to focus on quality when choosing materials for your dental implants:
Implant Post: A titanium post is placed into the jawbone to mimic a root.
Abutment: Each post needs an abutment to attach your restoration.
Restoration: Depending on your severity of tooth loss, you'll need a crown, bridge, or denture.
How Dental Implants Can Save You Money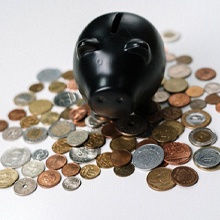 Dental implants are the most cost-effective solution for missing teeth because you'll never have to budget for replacements. With the right aftercare, your investment can last for 30 years or more to save money down the road. Not to mention, dental implants will lower your overall oral health expenses by stopping bone loss in your jaw. You'll avoid many common issues associated with missing teeth to lessen the likeliness of needing a costly treatment down the road.
Does My Dental Insurance Cover Dental Implants?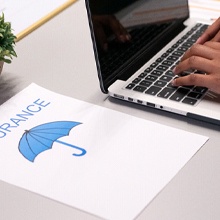 Your dental insurance won't cover the entire cost of dental implants in Houston, but you can use your benefits to lower the amount you'll pay for certain steps in your plan, like the consultation, tooth extractions, or restoration. A member of our team will work on your behalf to maximize your dental insurance to reduce your out-of-pocket expenses.
Making Dental Implants Affordable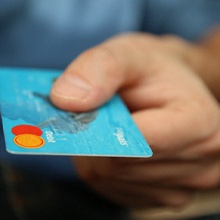 We offer several financial methods to keep dental implants within everyone's budget, including:
Traditional Payments: We accept cash, checks, and credit cards.
Third-Party Financing: Pay for your treatment using monthly installments through a third-party financing company, like CareCredit.
If you have any questions about your payment options, or you're ready to schedule your consultation, contact our office to speak with a member of your dental team.
Dental Implant FAQs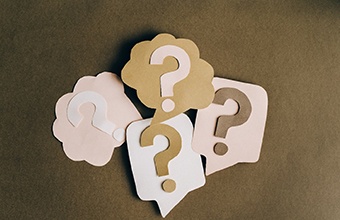 Dental implants in Houston are a big commitment, so it's normal to have some concerns before you're ready to move forward. We understand you might have apprehensions, but we will explain everything during your consultation. To help calm your nerves, here are the answers to a few frequently asked questions.
Can I take dental implants out?
A dental implant is unlike any other treatment because it recreates both the root and crown. As a result, your jawbone fuses to the post through a process called osseointegration. Therefore, only a trained dental professional can remove them, such as in situations of failure. Although you can't take out the posts, some implant dentures are removable to make them easier to clean.
Am I too old for dental implants?
There isn't a cutoff age for dental implants; however, many health conditions and medications can complicate the procedure for older patients. Don't let that discourage you from investing in dental implants. Many older patients well into their retirement can replace their lost teeth safely using the revolutionary treatment. Your implant dentist in Houston will examine your smile, learn more about your medical history, and review any prescribed or OTC medications that may make your treatment more complicated. They'll create a personalized strategy to turn back the clock on your smile. It's not uncommon for older patients to need a little prep-work, like bone grafting, tooth extractions, or periodontal therapy.
How successful are dental implants?
Dental implants offer the most predictable results because they have over a 95% success rate. A dental implant can last for 30 years or longer when placed by a qualified dentist; however, various factors will affect its lifespan, such as your oral hygiene routine, regular dental care, and the location of the post. Back teeth naturally undergo more strain. If an implant is used to replicate a molar, it may have a slightly higher failure rate than one placed in the front. You can avoid shortening the lifespan of your new smile by limiting hard foods and cutting tough meats into smaller pieces. Don't forget to brush, floss, and use a daily mouthrinse to keep your smile clean. With the right care at home and routine care from a dentist, your dental implants can last for a lifetime.
What should I do if my implant feels loose?
After your jaw has integrated with the post, your dental implant should never feel loose. If it feels unstable, you have pain, or there's swelling of the gum tissue, you need to call our office right away. These are signs of dental implant failure, so you don't want to ignore them. The quicker your dentist provides the necessary intervention, the more likely your dental implants can be saved. Sometimes, the solution is as simple as replacing a damaged restoration, while other situations can be more serious, like infection. Don't wait until it's too late to save your smile. Contact your dentist right away if your implant feels loose.