Emergency Dentistry Don't Worry in Houston, TX!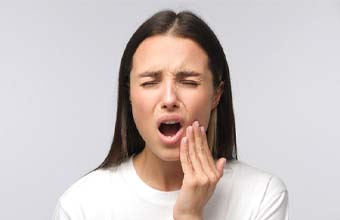 Even if you diligently take care of your teeth every day, accidents can still happen. These situations, typically referred to as dental emergencies, usually require a person to seek out dental care immediately. For dental emergencies, Dr. Cher Rich and our team can provide you the quick and effective treatment you need in your most vulnerable moments. If you or a loved one experiences a dental emergency, be sure to contact us immediately, even if it is after hours.
Common Examples of Dental Emergencies
These are situations where you should stop whatever you are doing and call us as soon as you can:
A knocked out tooth
A chipped, cracked, or broken tooth
Lost or damaged dental work (fillings, crowns, bridges, dentures)
Severe toothache
Large object caught between the teeth
Injury to the gums
Injury to the jaw
Swelling and pain in the face
What To Do in a Dental Emergency
No matter what your dental emergency is, you should always call us first. Our team will do everything we can to see you as soon as possible (we'll make same-day appointments), and we'll also walk you through basic first-aid over the phone. Here are a few things you can do after you have called us:
Try to find any lost teeth or dental work.
Rinse any dirt or debris off of them.
Try to place them back into your mouth. If you can't, put them in a safe container.
For a tooth, make sure this container is filled with milk, saliva, or saltwater to keep your tooth viable until we can see you.
Gently rinse your mouth with warm water.
Use a rag or towel to apply firm pressure to control any bleeding.
Apply a cold compress to manage pain and swelling.
We'll walk you through each of these steps after you call in. If you experience a dental emergency, don't wait to contact us. We'll always be there for you when you need us the most!
Dental Emergency Frequently Asked Questions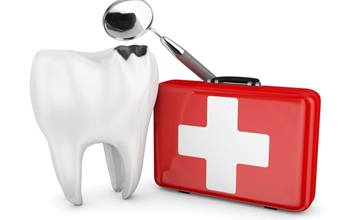 You can't always predict when a dental emergency will strike. That's why it's important to have as much information ahead of time so that you're more prepared should one occur. For that reason, we have gathered some of the questions about dental emergencies that we get asked the most often and answered them below. If you have a question that you don't see answered here, feel free to contact us and ask.
How Long Should I Wait to Receive Emergency Care?
If you're experiencing a dental emergency, it's critical that you seek treatment right away, even if you're not sure whether it's an emergency. When it comes to dental care, it's much better to be safe than sorry. This is especially true if you have a damaged or knocked-out tooth, as time is of the utmost importance when it comes to saving your tooth. Furthermore, most dental emergencies have pain associated with them, so you're going to want to see your emergency dentist as soon as possible to relieve your discomfort.
What If I Have an Object Stuck Between My Teeth?
First, rinse your mouth out with warm water. If that doesn't dislodge the object, then gently use dental floss. NEVER try and use a sharp object like a toothpick to get rid of an object stuck between your teeth. It could damage your teeth or the soft tissue in your mouth.
What If I Bite My Lip or Tongue?
You should first rinse your mouth with warm water. Then, to stop the bleeding, apply a piece of gauze or cloth to the area and keep pressure on the wound for ten minutes, or until the bleeding stops. For pain, take an over-the-counter pain reliever, apply a cold compress, or rinse your mouth with a saltwater solution. Until you can see us to heal your injury, it's best to stay away from hot, spicy, or acidic foods and beverages to avoid irritating the site and delaying the healing process.
When Should I Go to the E.R. versus the Dentist?
If your dental emergency is also life-threatening, like if you're experiencing swelling that hinders your ability to breathe, then go to your local emergency room instead of seeing your dentist. Also visit the hospital if you injure your jaw and think it may be broken. For any other urgent dental situations, it's best to see your emergency dentist.
What If My Child Knocks Out a Baby Tooth?
Unlike with a knocked-out permanent tooth, do NOT try and place the baby tooth back in the socket. Doing so may damage the underlying adult tooth. Depending on how close the tooth was to falling out naturally, we will decide whether to re-implant it. If it was not close, we may have to put a space maintainer in the area to keep the surrounding teeth from drifting and trying to fill in the gap.