Dental Crowns in Houston, TX Why does my tooth need a crown?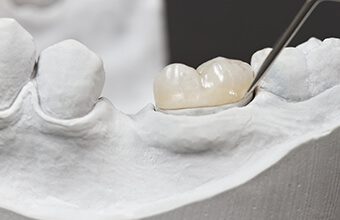 As the teeth are filled and refilled over the years, they will eventually reach a point where they can only be restored with a full coverage crown because the remaining tooth structure will no longer support a large filling. Fillings must be supported by the tooth, while a crown supports the tooth itself. People usually need a crown when:
A tooth is broken or fractured
A tooth is too damaged to be restored by a filling
To enhance the appearance of a tooth
To restore a tooth after a root canal
How long will my crown last?
This is entirely up to you! If your crown is brushed and flossed daily, it should easily last a lifetime. Unlike normal fillings, the materials used will not break down in the mouth, and our practice stands behind all crowns for one year.
Why should I trust a crown to restore my smile?
A full coverage crown is one of the most trusted dental restorations. The entire history of dentistry has shown that for durability and function, nothing beats a crown. The damaged tooth is completely protected and the long term results are excellent. A full coverage crown completely covers a tooth down to the crest of the gums. This creates a seal at the "margin" where the crown meets the tooth structure, and this seal protects the tooth against any further decay.
Why does my tooth need a "build up?"
Often, teeth are broken down to the point that a "crown build-up" is required. By using silver amalgam, composite resin, or special cements, the remaining tooth structure can be augmented so that the crown will have a more secure hold.
Why do I need a crown after a root canal?
After a root canal, a tooth is usually very brittle. If it is not restored with a crown, it will likely break and require extraction.
How is my crown made?
The process to get a crown usually requires 2 appointments. At the first one, we will remove any decayed portion of your tooth, shape it to fit the crown, and take an impression. This will be sent to a local dental lab to fabricate your crown. This process takes about 1 to 2 weeks, so we will fit you with a temporary crown during this time.
After it is completed, you will return to our office where your doctor will place it over your natural tooth using a small amount of dental cement. From there, your new smile will be ready for the world!
Can my temporary come off?
If your temporary crown comes off, be sure to call our dental office in Houston, TX right away and we will re-cement it for you. It is important to have your temporary stay in place to ensure the fit of your permanent crown. In fact, until your final crown is placed, it's best to avoid sticky or very hard foods.
Once my permanent crown is cemented, what if it hurts?
Minor discomfort and slight sensitivity are normal right after a crown has been placed. The tooth typically needs just a little time to adapt. However, if the symptoms persist more than a week, contact our office as soon as you can.