Full & Partial Dentures – Houston, TX
Restoring Smiles & Improving Quality of Life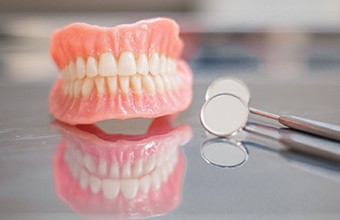 If you're suffering from tooth loss, you're not alone. Millions of other Americans have a difficult time doing simple tasks such as speaking and chewing food due to missing several or all of their teeth. It can be difficult to decide which restorative dental treatment is best for you because there are so many options out there. At Cher Rich, D.D.S., our team wants to make sure that you choose the best option for your unique needs, which is why we're more than happy to discuss all of the different replacement tooth options that we offer with you. Many of our patients choose full or partial dentures in Houston to meet their needs because the offer a variety of unique benefits. If you're like to learn more about how you can restore your smile, schedule a consultation with our dedicated team today!
What are Full Dentures?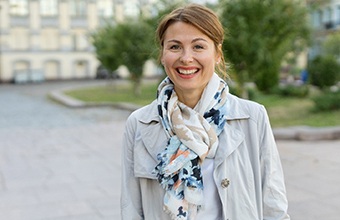 We typically recommend full dentures for patients who are missing an entire arch of teeth. Each set of full dentures is customized to fit our patients' unique dental structure for maximized control and comfort. They contain two primary parts, the gum-colored acrylic base, and the natural-looking artificial replacement teeth that are attached.
Since dentures are removable, patients can easily take them out to give their gums a rest at night. This feature also makes them easier to clean and keep them looking like new. The structure of full dentures are made to be held in place using natural suction and denture adhesive for a stable and strong tooth replacement option. For patients who are looking for a more permanent and durable restoration, we may recommend implant-retained dentures. These are restorations secured to titanium implants that are surgically placed below your gums and bonded with your jawbone.
What are Partial Dentures?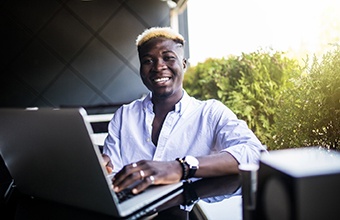 We also offer partial dentures for patients who are missing several teeth in an arch. Instead of needing to sacrifice healthy teeth for a full restoration, we're able to strategically design a base that can replace the gaps in your smile, even if they're not right next to each other. This structure is typically made of either metal or acrylic and can easily be taken out of the mouth to clean. The foundation of the base is crafted to be hidden behind your existing teeth, so it doesn't stick out like a sore thumb.
What are the Benefits of Replacing Missing Teeth?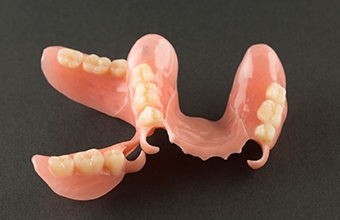 Our dentist in Houston, Dr. Rich, highly recommends replacing missing teeth for a variety of reasons. Some of these include:
Improved ability to eat and speak without discomfort.
Prevent existing teeth from drifting out of place to fill in the gaps in an arch caused by missing teeth.
Help maintain facial appearance and avoid sunken-in cheeks.
Boosted self-esteem due to improved appearance.
If you have any questions or would like to learn more about our tooth-replacement treatments, be sure to schedule a consultation by contacting our office today!