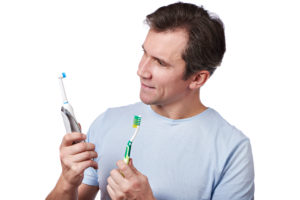 These days, there's a powered version of just about everything. From your thermostat to your cat feeder, automated gadgets are everywhere – all promising to make your life better and more efficient. But does an electric toothbrush really deliver on all the claims that it will give you better checkups, fewer cavities and a whiter smile? Your dentist in Houston will answer that question and discuss both the potential and limitations of this hygiene tool. You'll also learn why your brushing technique actually matters more than what type of brush you're using, as well as some tips and tricks that will help make the most of your hygiene routine.
Is an Electric Toothbrush Necessary?
The answer to this question depends somewhat on your existing habits. If you're already consistent with brushing and flossing and you have good technique, an electric brush isn't really necessary. Chances are that you're doing just fine with a manual!
However, if you're inadvertently leaving behind a lot of plaque and bacteria because you aren't holding your brush at the right angle or if you're only brushing for 30-40 seconds, an electric will help you keep things much cleaner.
Also, while many people can do just fine with a manual brush once they've learned the right way to use it, there is a subset of the population who can definitely benefit from an electric.
This includes anyone with dexterity issues who has difficulty gripping their toothbrush, such as someone with arthritis or a disability that affects the motor skills. Also, some children will do a much better job with a powered brush.
What Is the Best Brushing Technique?
Here are some tips to help you get the most from your brushing habits:
Whether you're using an electric or manual, angle your bristles at 45 degrees towards the gumline.
Use a soft-bristled brush with light pressure to avoid damaging your gum tissue. If you're using an electric, don't add additional pressure! Just let the tips of the bristles barely touch the teeth and gums so they can move freely and do the most effective job.
Spend time brushing the front, back and chewing surfaces of all of your teeth.
Make sure to brush for two minutes. That doesn't sound like very long, but if you time yourself you'll see that it's much longer than you would have guessed!
If you struggle to brush twice a day, try adjusting the time of day that you brush. For example, if you're usually too tired to brush before bedtime, brush right after dinner when you have more energy.
In addition to these tips, the best way to find out how you're doing and learn how to improve is to schedule a checkup and cleaning with a dentist in 77070.
You'll find out how well you're doing and will get detailed instruction on your brushing and flossing technique that will be tailored just for you!
About the Author
Dr. Cher Rich is a general, restorative and cosmetic dentist who has been interested in the field of dentistry since she was a child. She loves teaching her patients about taking great care of their teeth at home, and knows that the right technique can make a world of difference in preventing problems before they start. She can be reached for questions via her website or at (281) 469-6281.