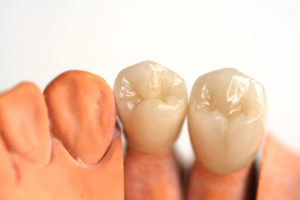 The crown of your tooth is just as important as the one that rests on the head of royalty. It signifies protection for all of the precious material that is housed inside. Therefore, when it's compromised, the health of the rest of your tooth is in jeopardy as well. If your crown is cracked, severely damaged from decay or missing completely, then learn from your local dentist how you can be fully restored with dental crowns in Houston.
What are Replacement Crowns?
The crown of your teeth is the part that is visible from the gumline up. It's covered by a hard exterior called enamel that has the primary function of protecting the inner layers of the tooth from food particles, bacteria and plaque.
If damaged beyond repair, your dentist will recommend a crown replacement, which consists of high-grade, tooth-colored porcelain. The process involves the following steps:
Reshaping the Tooth – Before the new crown can be placed, any decay will be addressed. Following that, the tooth will be shaped to properly accommodate the replacement cap.
Bite Impressions – Your dentist in Houston will then take bite impressions that will be used to make the permanent fixture.
Fabrication – The measurements will be sent to a trusted dental lab that will fabricate your new crown. This part of the process usually takes about two weeks to complete. In the meantime, you'll be fitted with a temporary crown.
Final Visit for Placement – When your permanent crown is ready, you'll return to your dentist's office to be fitted. You'll leave with a fully restored tooth that is also aesthetically pleasing.
What Happens if You Neglect Getting Your Crown Restored?
As stated above, your crown serves as a major defender of your tooth's health by protecting it from the harsh environment of your mouth. If you hesitate too long on getting your severely damaged cap replaced, then you run the risk of the decay developing into gum disease. Untreated, this condition can lead to tooth loss, oral infection and serious health issues in other parts of your body.
How to Care for Your New Crown
The crown of your tooth should be treated with the same care and detail that goes into cleaning the royal headdress. That translates into the following habits:
Practice Excellent Oral Hygiene – Brushing and flossing your teeth daily are excellent ways to increase the longevity of your replacement cap.
Make Healthy Food Choices – Eating healthier foods like fruits and vegetables contribute to maintaining the right pH level in the mouth to limit bacteria growth.
Visit Your Dentist on a Regular Basis – Every six months, you should head into your dentist's office to get a full cleaning and thorough oral examination. While there, your dentist will also make sure that your crown is still in good shape. If any problems are discovered, you'll have an opportunity to have it corrected before it develops into a greater issue.
If you have damage to the cap on your teeth, take the time to reach out to your local dentist to schedule an appointment to be examined and to discuss your options. Soon, you'll be able to function normally with an aesthetically pleasing new crown!
About the Author
Dr. Cher Rich has had a passion for dentistry since the age of 12. Thus, when she went off to school at Texas A&M, she already knew where her life was heading, which is why she would go on to earn her dental degree from the University of Texas at Houston Dental School. To learn more about Dr. Rich's exemplary care, you can reach her through her website.