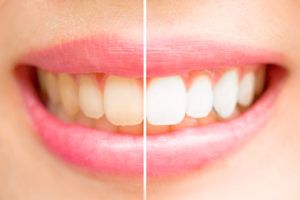 Studies show that at least a third of the new people you meet notice the condition of your teeth before anything else, so you're constantly being judged by the appearance of your ivories. Thus, if you have smile flaws such as stained teeth, you can be left feeling insecure. Your cosmetic dentist says there's a sure way to overcome this problem with Zoom Whitening in Houston. As you read on, you'll learn how the process works and its advantages.
What Does the Zoom Method Entail?
The Zoom method for whitening your teeth allows your cosmetic dentist to improve the appearance of your smile by as much as 10 shades using high-powered bleaches. Here are the steps to the procedure:
Preparation – One of the advantages of receiving professional teeth whitening is that your dentist takes every precaution to ensure the safest application. Thus, your soft tissues will be secured before any work starts.
Whitening Gel Application – The first step of the whitening procedure is to carefully apply the high-strength gel to your teeth.
Shining the Light – Then a special Zoom light is shone on your teeth to activate the whitening agents in the gel.
Your cosmetic dentist will allow 20 minutes for the gel to go to work at lifting the troublesome stains. If needed, this process can be repeated up to two more times. By the time you leave your dentist's office, you'll have a completely revamped smile.
Why Zoom is Better Than Store-Bought Options
The Zoom method is superior to store-bought alternatives for the following reasons:
Safety – As mentioned earlier, by having your dentist perform the whitening process, you are assured that your lips, gums and other soft tissues will be protected.
Customization – With store-bought whitening methods, consumers have to settle for a generic process. The Zoom method, though, provides you with whitening trays that are custom-designed to fit your mouth perfectly. This ensures full coverage and the best results.
Higher Quality – Another benefit of professional whitening is that you'll receive the highest quality whiteners available. Thus, you'll see noticeable results fast.
How to Find Out if Zoom is Right for You
When you go in to visit your cosmetic dentist in Houston for a consultation, the professional will examine your teeth to make sure that you're a good candidate for the Zoom procedure. He or she will also discuss your smile goals with you to ensure that the two of you are on the same page.
You no longer have to settle for the unwanted stains on your teeth. Reach out today to schedule a visit and Zoom down the road to smile perfection!
About the Author
Dr. Cher Rich earned her dental degree from the University of Texas at Houston Dental School and has been in private practice for over a decade. Throughout her career, she has always placed the needs and desires of her patients at the top of her priority list, which allows her to provide the absolute best in care. Dr. Rich brightens smiles at her private practice and can be reached for more information through her website.