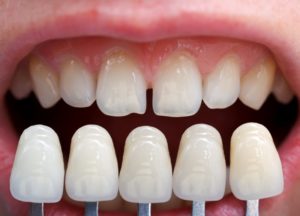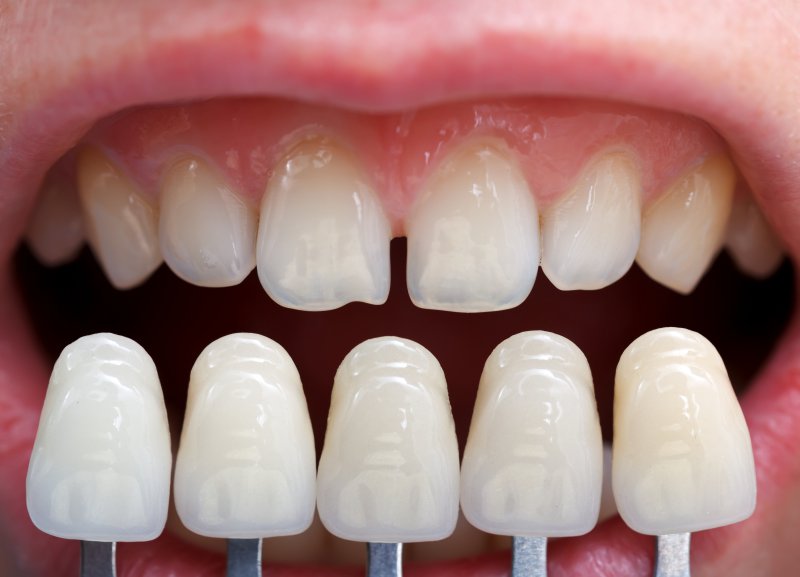 Even though teeth are made from the hardest substance in the human body, enamel, they can still become damaged in numerous ways. You can experience a dental injury that leaves your tooth cracked or chipped. You may have untreated tooth decay that's left your inner tooth exposed. You may be suffering from a condition that leads to accelerated enamel erosion, including bruxism or misalignment.
Luckily, there are multiple ways to hide imperfections and prevent future damage. Dental crowns and porcelain veneers are two great treatments to consider.
How Dental Crowns Restore Teeth
When your teeth have been damaged but there's still enough remaining tooth structure, it's always better to go with a dental crown, rather than an extraction. Dental crowns are specifically shaped and shaded to blend in with the rest of your smile naturally, while still maintaining reasonable protection.
If you want to avoid any risk of people noticing your restoration, choosing an all-porcelain variant is definitely the way to go. Of course, if you intend on covering a tooth less visible in your smile, such as your molars, then a metal crown may be a better solution. It truly depends on what you want and what the dentist recommends for your unique case.
Once the crown is completed, the dentist will fit it over your tooth and make sure that your bite looks as even as possible. They'll make adjustments as needed to ensure that your bite feels comfortable and doesn't cause undue stress on your neighboring structures.
Porcelain Veneers: Hiding Imperfections
For those with cosmetic chips, cracks or generally misshaped teeth, you may want to consider porcelain veneers as your next restoration. Crowns are typically reserved for individuals suffering from dental disease, like tooth decay. While crowns work to protect the inner tooth from bacteria exposure, porcelain veneers offer a different solution.
If your smile has noticeable imperfections that make smiling difficult, porcelain veneers can cover them completely. Like dental crowns, they involve removing a very small amount of enamel in order to place. While their function is more reserved for cosmetic purposes, it doesn't mean they can't work to help make your bite more even.
Additional Issues to Consider
Before any restorative work can be performed, your dentist will need to confirm two other attributes about your oral health. For example, those with dental disease will need to confirm that no gum disease is present before they receive dental crowns or veneers. If you have a habit of teeth grinding, then your gums are likely beginning to recede, causing your teeth to be more exposed.
Furthermore, if you plan on getting dental crowns or veneers, you'll need to purchase a custom-made mouthguard to protect your new restorations if you regularly grind your teeth. Failing to do so will only allow your restorations to get damaged over time.
Have a question about restoring your damaged smile? Schedule an appointment today to get started rebuilding!
About the Author
Dr. Cher Rich earned her DDS degree from the University of Texas at Houston Dental School. She works hard to ensure that restorations for her patients are high quality, long-lasting, and designed to blend in with your smile as naturally as possible. To learn more about her practice, you can contact her through her website.