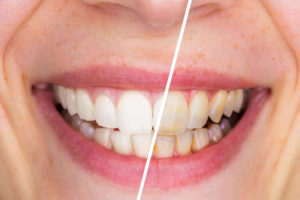 As the holiday season draws near, your cosmetic dentist in Houston says that while you're looking for gifts for your friends and loved ones, don't forget to treat yourself to the feeling of smile perfection. One way to make this happen is with professional teeth whitening. Learn how it can vastly improve your confidence and positively impact the people you encounter as you read further!
The Benefits of Cosmetic Dentistry
A recent study shows that at least one-third of the people you meet will notice your smile before anything else. Therefore, if you have imperfections, you could be prematurely judged. It's natural, then, for you to be more hesitant when it comes to smiling.
Not only is that a reflection of lowered self-esteem, but it also can have an impact on your overall health. That's because smiling causes your brain to release the "feel-good" hormones dopamine, endorphins, serotonin and oxytocin. The latter then aid in lowering your blood pressure and heart rate.
Therefore, having a cosmetic procedure done that encourages you to smile is more than just vanity; it's a means of improving your total wellness!
Overcoming Teeth Stains
One of the more troubling types of smile flaws to have is stained teeth. Thankfully, there is a sure remedy that can restore the vibrance of your appearance – teeth whitening with the Zoom Whitening System.
This method employs high-powered bleaches to dissolve embedded stains that have been plaguing your smile. Here is how the process works:
Your gums and other soft tissues are first secured to prevent irritation.
The whitening gel is then applied to your teeth.
A special light is shone, which activates the whitening properties in the gel, and they are allowed to work for about 20 minutes.
After each application, your cosmetic dentist will check your teeth to see if the results are sufficient. If needed, the process will be repeated up to two more times.
The final result will be teeth that gleam up to 10 shades brighter than they were.
Maintaining Your New Smile
After the procedure is done, you may need to perform an occasional touch-up at home, but with proper care, you can maintain your brilliant new smile for years to come. A way to sustain your appearance is to limit your consumption of foods and beverages that are heavily pigmented and to practice excellent oral hygiene, which should include brushing and flossing your teeth after every meal.
It's undeniable that having a better-looking smile will positively change your life, but the first step is to reach out to your cosmetic dentist to learn more about Zoom Whitening in Houston. Your path to a new image starts today!
About the Author
Dr. Cher Rich has been practicing dentistry for over a decade. Still, the University of Texas at Houston Dental School graduate remains just as passionate about helping patients enjoy healthier and aesthetically-pleasing smiles as she was when she first began her career. Dr. Rich brightens teeth with Zoom Whitening at her private practice, and she can be reached for more information through her website.