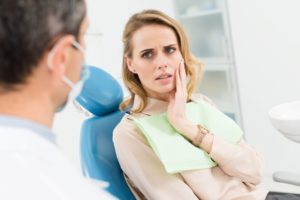 Do you need to see an emergency dentist in Houston? By all means make the appointment. But take a moment first to read the dental first aid tips discussed in this post. Otherwise you may be setting yourself up for needless discomfort.
Treating a Broken, Chipped, or Knocked out Tooth
The first step is to retrieve the tooth itself, or any tooth fragments, wrap them in a moist cloth or paper towel, and put them in a plastic bag. Your dentist may be able to reinsert the tooth or otherwise repair the damage.
You should also rinse your mouth with warm water, preferably with a little salt sprinkled in to help control infection.
Dealing with a Loose Filling
Save the filling if possible and bring it with you to the dentist. In the meantime, you can use a piece of sugar-free candy or gum to fill the gap. You can also find temporary filling material at most pharmacies.
Severe Toothache
Applying a cold pack to the cheek will help to control swelling. Take an over the counter pain reliever such as ibuprofen or acetaminophen and rinse your mouth with warm water. Never apply aspirin directly to the distressed tooth, as this can damage the gum tissue.
 Abscess
An abscess is very serious. Left untreated, it can cause severe discomfort and widespread tooth loss. The primary symptom of an abscess is a pimple-like swelling in the gums. Rinsing with warm salt water can help to control discomfort and reduce risk of infection. Prompt dental treatment is crucial.
Loose or Broken Braces Wire
Never, ever cut a braces wire, as it can lodge itself in the mouth or throat. If the tip of the wire is poking into the person's cheek or tongue, then try covering it with gauze, a cotton ball, or dental wax.
How to Make Your Own Dental First Aid Kit
A dental first aid kit is a handy item to have on hand for those times when the unexpected happens. A well-stocked kit will include the following items:
Dental wax. This is useful for coating the edges of broken teeth and other purposes.
Temporary filling material. This helps to control pain and reduce infection risk until a dentist can be seen.
A small mirror and flashlight. These are useful for seeing what's going on in the person's mouth.
Rubber gloves. These are important for the caregiver's comfort and protection.
A cold pack. These products keep themselves at room temperature until they're shaken vigorously, after which they can stay cold for hours. Cold is helpful for reducing swelling and discomfort.
Pain reliever. Some degree of discomfort is present in almost all dental emergencies.
Clove oil. This is a classic remedy for toothaches and similar issues. It will not cure the problem, but it will help the patient to feel better until professional help can be obtained. Follow the directions on the bottle precisely.
Dental emergencies can occur at any time, even during the holidays. Use the tips in this post to manage the problem until a dentist is available. We wish you and yours all the best, both during this special season and into the new year.
About the Author
Dr. Cher Rich has been treating patients in the Houston area since 2007. She earned her DDS degree from the University of Texas at Houston Dental School. You can reach her office online or by calling (281) 469-6281.